Horowitz lays out next steps in FISA report process: 'We want to make as much of this public' as possible
---
Horowitz lays out next steps in FISA report process: 'We want to make as much of this public' as possible
Horowitz lays out next steps in FISA report process: 'We want to make as much of this public' as possible
Justice Department Inspector General Michael Horowitz promised to make as much of his investigation into the Foreign Intelligence Surveillance Act, finished last week, as public as possible.
Horowitz appeared in front of the Democrat-led House Oversight Committee on Wednesday along with a couple other inspectors general and laid out details about the next steps for his report on alleged FISA abuse by the DOJ and the FBI, telling the congressmen that he'd handed over a draft of his factual findings to Attorney General William Barr last week and that the process of review and classification was now just beginning, and could take a while.
Horowitz's investigative team reviewed more than a million records and conducted more than 100 interviews, and much of it was likely connected to classified matters connected to the Trump-Russia investigation and the Foreign Intelligence Surveillance Court.
Rep. Jody Hice, a Republican from Georgia, said he knew that Trump "wants as much as possible to be known to the public."
"Are you working with the Department of Justice to have some of that declassified?" Hice asked.
"Right now, what we've done is meet with the folks at the Justice Department and the FBI to tell them what we've done so far," Horowitz said. "They have the draft of the factual information that we've developed. We've talked through the classification issues with them, but it's ultimately up to them to decide what's going to be marked and how it's going to be marked or how it's not going to be marked."
00:0000:51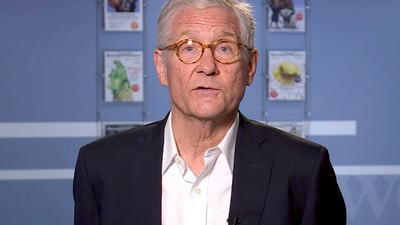 Senior Columnist Fred Barnes on the expanded Washington Examiner magazine
Watch Full Screen to Skip Ads
Horowitz's team examined the FISA application and three renewals beginning in October 2016 to surveil former Trump campaign adviser Carter Page. The applications relied on the unverified dossier compiled by British ex-spy Christopher Steele, who was hired by opposition research firm Fusion GPS.
Republicans allege the FBI and the DOJ misled the FISA Court about the dossier's Democratic benefactors, which included Hillary Clinton's 2016 campaign and the Democratic National Committee, and its author's anti-Trump bias were left out of the FISA applications. Democrats countered that the FBI acted appropriately, saying the DOJ and the FBI met the rigor, transparency, and evidentiary basis for probable cause.
Horowitz added Wednesday that, once the report is sent back to him with mark-ups related to classification, he might dispute the decisions if he thought it was necessary for more information to be made public.
"We may weigh in once we see it back as to what our views are and as to any disagreements," Horowitz said.
Horowitz noted that this was the "usual process" and that "these rarely go in a one straight line process."
"Can you just generally say percentage-wise how much of that report was classified?" Hice asked.
Horowitz declined to provide specifics about how much of the report contained classified information, since that determination would ultimately be made by Barr and others.
South Carolina Sen. Lindsey Graham, the Republican chairman of the Senate Judiciary Committee, has previously called upon Barr to make as much of the report public as possible. Graham sent a letter to Barr earlier this month telling him that as much as possible should be declassified "to provide a complete picture of what went on." Graham laid out nine specific tranches of documents he believes the public should see.
Rep. Mark Meadows, a Republican from North Carolina, asked Horowitz on Wednesday if he'd "officially" finished up his work and submitted his report, and Horowitz again stressed there could end up being a bit of a debate between the DOJ and the inspector general's office if Barr tried to deem more information as classified than Horowitz thought was appropriate. Horowitz said the final report hadn't been written yet.
"We have given our factual findings to the department for their marking," Horowitz said. "And what we then do once we get it back, whether we have to go back and forth on the markings is once issue, but once those are final, we then take that and try and write our public report from that, because we want to make as much of this public."
"We're not quite final yet," Horowitz added.
Source: www.washingtonexaminer.com/news/horowitz-lays-out-next-steps-in-fisa-report-process-we-want-to-make-as-much-of-this-public-as-possiblehttps://www.washingtonexaminer.com/news/horowitz-lays-out-next-steps-in-fisa-report-process-we-want-to-make-as-much-of-this-public-as-possible